Diversity, Equity, Inclusion and Justice
Millwood School's five-year Strategic Plan speaks to promoting diversity and inclusion within our school community. Our focus is to develop cross-cultural competency and appreciation of our differences. Robinette Cross, Millwood School's DEIJ Consultant, has worked with our faculty and staff on professional development to open discussions on topics related to diversity and inclusion. Here is an introduction to Ms. Cross.
Robinette Cross is the founder of Cross-Cultural Talks, LLC, which is an organization that focuses on Academic Success and Cross-Cultural understanding. She has been an educator for over 10 years at both the collegiate and high school levels. As a new member of the Millwood Community, she is excited to get to know students, faculty, families, and stakeholders.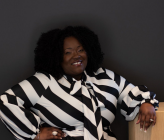 As a product of the IB Programme, educator, parent, and global citizen, Robinette understands the academic, social, and emotional considerations that will impact our international climate. She is excited to be a ready resource as we build on Millwood's programs, curriculum, and overall community engagement in a way that celebrates every member of our community.
Robinette's role as our DEIJ Consultant within Millwood School is to teach the fundamentals of diversity, inherent bias, cultural responsiveness, and cultural humility throughout the community. Her work will also help to help ensure that every member of the Millwood family, particularly students, feels seen and heard and that there is accurate and positive representation throughout the classrooms and the greater community. The overall goal is to heighten understanding and strengthen healthy relationships as we grow individually and collectively.
Statements of Equality
To our community:
I would like to take this opportunity to state that Millwood School is committed to inclusion, the richness of a diverse society, and to the principles of human dignity and equality. As educators, we rededicate ourselves individually and collectively to that mission and to building a society of fairness, justice, and opportunity for all. There is no place for racism.
Sincerely,

Christopher Ryan
Head of School

To our community:
Millwood School is a place where students and families of all race, ethnicity, gender, sexual orientation, disability, religion, culture, and background are welcome. We continue to offer an unprecedented educational experience where each student is known for who they are as an individual, inclusive of each group that they may identify with. Please join me in committing to contribute to the Millwood School community by connecting with other individuals and families you have not met yet.
Sincerely,

Maria K. Collins
President, Board of Trustees