The tuition revenue covers approximately 85% of the operating budget for the school. Tuition is set at a level to make it more affordable to more parents. The Annual Fund Campaign is a crucial component of bridging that gap.
THE IMPORTANCE OF THE ANNUAL FUND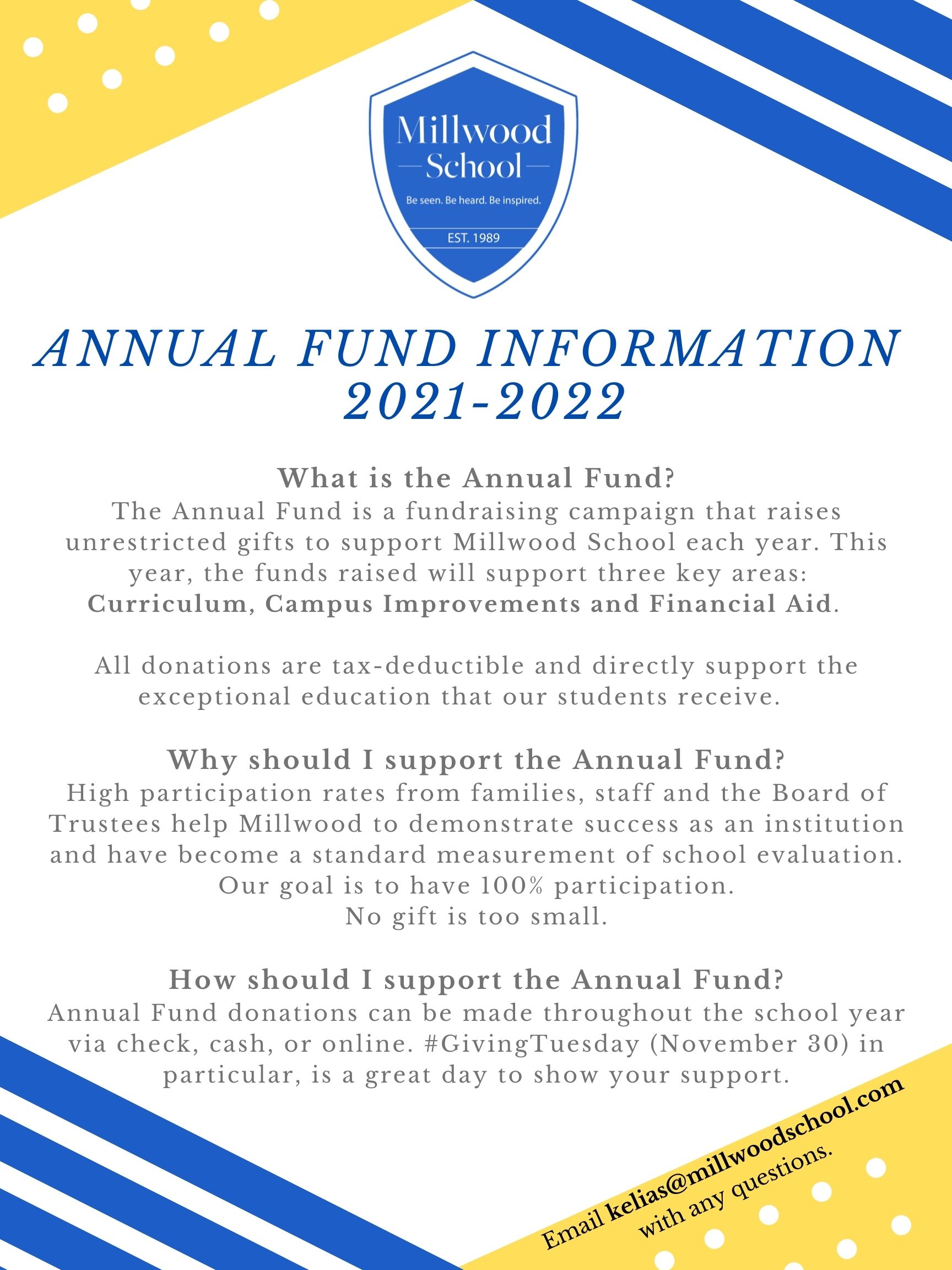 You can see the tangible results of your gifts by walking the halls of Millwood School. Each dollar we raise covers the remaining operating expenses and extras that go into providing the outstanding education our children are receiving at Millwood School. In a way, every student receives financial support. That's why schools need annual funds, endowments, tuition aid programs, and capital campaigns.

These initiatives help us:
Attract and retain the very best teachers
Keep class sizes and student-teacher ratios down
Make Millwood School accessible and affordable to qualified students
Ensure that our facilities provide exceptional learning environments
Offer a broad range of curricular and extracurricular programs
The Annual Fund Campaign is the only campaign dedicated to raising unrestricted gifts for the school. Because these gifts are unrestricted and because the donor is not "purchasing" anything with the contribution, these gifts are eligible for charitable tax receipts. The campaign begins July 1 and funds are collected through June 30 of the following year.

Schools with high participation rates in their Annual Fund Campaigns tend to demonstrate success as an institution. Therefore, parent participation percentage figures have become a standard measurement of evaluation and are widely reported to local and national institutions such as the Virginia Association of Independent Schools and AdvancEd.
The rate is a required entry on virtually all requests for outside financial assistance from corporations, endowments, and foundations. For these reasons, the fact that families participate is more important than the amount donated. The only gift too small is no gift at all.

Levels of Giving:
Legacy - $5,000 and above
Champion - $3,000 to $4,999
Ambassador - $1,000 to $2,999
Partner - $1 to $999
DONATE NOW
Please contribute as generously as you can; each contribution makes a significant difference to Millwood School students immediately and in years to come.
You may also donate online through our secure online giving form where you can specify the type of gift (i.e., "Annual Fund" or "Fund a Cause").
Unless you choose to give anonymously, all contributors to the Annual Fund are proudly named in the Annual Report each summer. With strong Annual Fund support, Millwood School can continue advancement to the highest level of independent schools. To succeed, we must call upon the loyalty and generosity of our parents, alumni parents, alumni, friends, and grandparents.